and I just want to shout it from the Internet-tops!
And why shouldn't we??  We put so much effort into our blogs; we pour our hearts and souls into our little computer screens; we get personal; we help each other.  How much time do you spend coming up with ideas and beautifying your blog??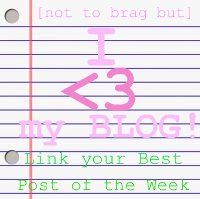 There's no reason we shouldn't be proud of them and share our best writing!
Come every Monday and link up your favorite post that you wrote this past week.
Party Etiquette
Required:
Link up your best post of the week
Your CONTENT only – please no giveaways, link parties, or sponsored posts
Follow me on Twitter
Go read at least one other person's post and leave a comment
(tell them you came from the I <3 my Blog hop!)
*** Please help me spread the word – it's a new blog hop!
***
Optional:
Subscribe to my Monthly E-mail Newsletter
Like me on Facebook
Add me to your Circles on Google + 
Thanks so much for playing!! I really appreciate you visiting!
Tell Your FRIENDS!