This is a Sponsored post written by me on behalf of Truvia® Natural Sweetener for SocialSpark. All opinions are 100% mine.
As you might know, I'm trying to cut back on sugar for myself, my toddler, and my diabetic husband. That's why I was so excited to do this post for Truvia® Baking Blend. It's a sugar substitute.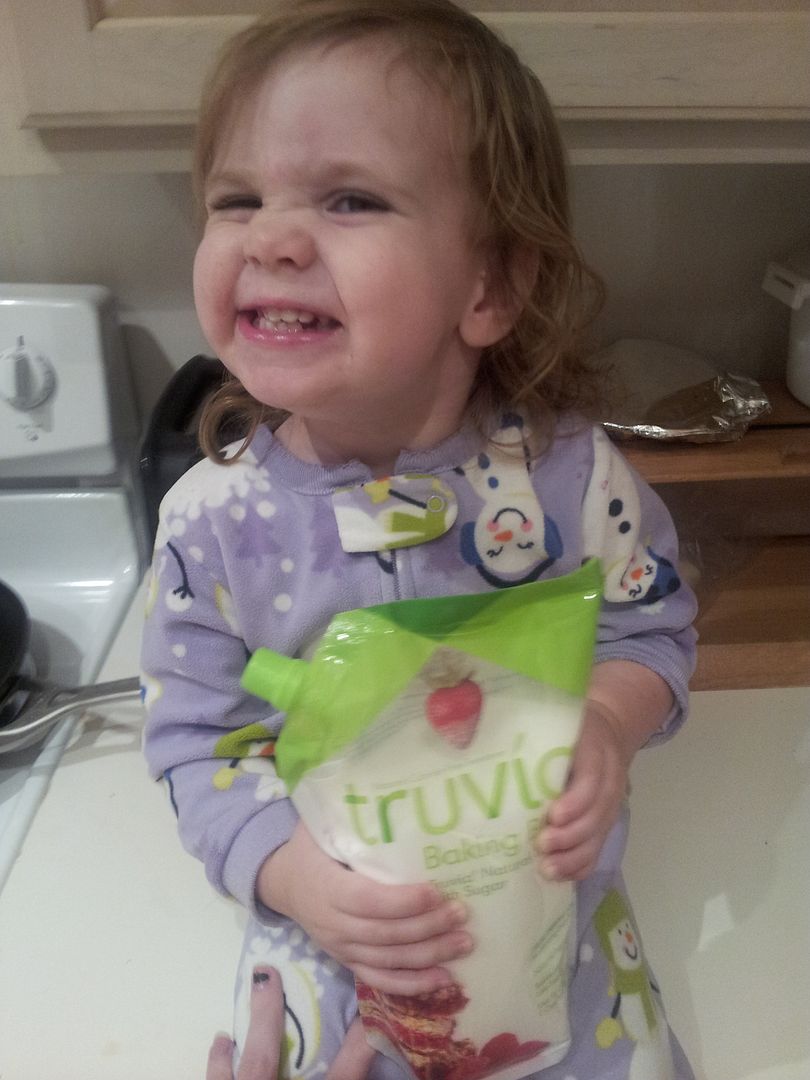 Designed for easy, at-home baking, Truvia® Baking Blend is a blend of Truvia natural sweetener and sugar.
Truvia® Baking Blend provides sugar-like taste and texture in recipes, but with 75% fewer calories and twice the amount of sweetness than sugar.
Baked goods made with Truvia® Baking Blend will have sugar-like texture and moistness and will bake and brown like recipes that are made with sugar.
One 1.5 pound bag of Truvia® Baking Blend has equivalent sweetness to 3 pounds of sugar, which is approximately 7 cups – enough to make 13 pies, 9 batches of cookies or 6 batches of brownies.
Truvia® Baking Blend is available at retail stores nationwide in a 1.5 ppound bag with a closeable, easy-to-use pour spout. (My daughter LOVES to play with this spout, pretending she's squirting soup into our hands. Hahaha!)
I found this brownie recipe on Pinterest and adapted it for this post. 🙂
Christmas Brownies
Ingredients:
* 1/2 Cup Truvia® Baking Blend
* 1/2 Cup Flour
* 1/3 Cup Cocoa
* 1/4 tsp Salt
* 1/4 tsp Baking Powder
[Combine the Above Dry Ingredients]
* 2 Eggs
* 1/2 Cup Vegetable Oil
* 1 t Vanilla
[Add wet ingredients, mix]
[Optional: Add holiday sprinkles on top before baking.]
Bake at 350 degrees for 20-25 minutes. Make sure to do the toothpick test to make sure they're done!
[Other Optional Idea: Frost the brownies and add sprinkles after baking. I used a peanut butter frosting recipe for this batch.]
Let your toddler help you bake the brownies! Cupcakes had a GREAT time helping Mommy!
Don't they look delicious! My husband and friend (whose birthday it was so I brought a brownie) thought so!! 🙂 My husband and I love brownies so this Truvia® Baking Blend was so amazing. Perhaps the best part about them was that they didn't give Hobbs high blood sugar. 🙂
A Contest You Can Win!
…. a $25 Gift Card to the Grocery Store of your choice!!
To enter, leave a comment on THIS blog post letting me know which recipe you are most excited to try using Truvia® Baking Blend. 🙂 GOOD LUCK! I look forward to seeing your best Christmas / Holiday desserts!!
Izea will pick a winner on 12/17. If you want to Join Social Spark and host cool contests / try cool products, click the link!
Visit the Truvia® website for more tips and information on Truvia® Baking Blend


America's Restaurant Recipes eBook
This post may contain affiliate links. Clicking these links costs nothing for you, but if you choose to make a purchase through them, you will be supporting this blogger, and I thank you from the bottom of my heart. <3
Comments Make Me Happy!