My Funniest Moments of the Week.
Enjoy!  And you should definitely watch the video – SO cute!  <3
5.) Even though Cupcakes was sick for the last 2ish weeks, she still had a fun time playing w the big dog stuffie and trying to get up the stairs.  Her Poppa had to try to keep stopping her from getting up there.  She just dives for it now and even though she understands "no", she doesn't always listen.
4.) Lately, she's been pushing our hands off of her while being held.  I'm not sure how she thinks she's going to stay up without any hands on her, lol.
3.) Funny Daycare Kid Quote of the Week:
"There's a baby in my belly named Molly and she's just in there playing with rubber duckies." – M  Excellent.
2.) I told you a little bit about Cupcakes' first concert.  I'm going to write about it at length for (hopefully) tomorrow's post, but before I do, I'll share one hilarious moment.  At first she was very nervous by all the kids sitting in the gym of our daycare center, but after she got used to it, I moved with her towards the front so she could see the stuffed snowman.  Hobbs stayed in back.  Well, she spotted him from across the room and indicated to me that she wanted down.  I put her on the floor and she walked all the way over to him through all kinds of kids!  Great job, Cupcakes!
1.) This is the cutest thing ever!  She had been giving all of us kisses for a while, but she also kisses the baby in the mirror!!  <3
Do you have a post about funny moments this week?
Come link up!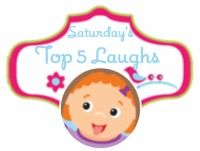 Also, there are still Ad Spaces available on my blog for March!  Click HERE for details.  🙂


America's Restaurant Recipes eBook
This post may contain affiliate links. Clicking these links costs nothing for you, but if you choose to make a purchase through them, you will be supporting this blogger, and I thank you from the bottom of my heart. <3
Comments Make Me Happy!