Today is All Souls Day, also known as Day of the Dead.  The Halloweenie feel lives on through today.  I have a little bit to talk about and a LOT of great Halloween pictures to show you!
All Saints Day
Monday was All Saints Day – a day to celebrate the saints.  A lot of people think that Catholics worship saints, but even though I can see where the misunderstanding comes from (our statues, our prayers…), it's simply not true.  We worship God and God alone.  However, since the saints are in heaven and close to God, we ask them to pray for us.  They are right there in God's Kingdom at His throne and they are praying for us!  
The Church names certain people who led holy lives saints.  These holy men and women are role models for us.  They are not the only ones in heaven, however.  Heaven is populated by many more than the church has named.  Did you know that EVERYONE in heaven is a saint?!  That doesn't mean they never made a mistake.  We are all sinners, including those who are in heaven now.
"The Church is not a home for saints but a hospital for sinners." – A Priest at my church
And that brings me to my next topic:
All Souls Day
I've always loved All Souls Day!  As someone ashamed of her sins, I can really relate to the souls in Purgatory.  Let me explain…
All Souls Day is not only a day to remember our relatives who have gone on before us, but to remember everyone in Purgatory.  Purgatory is a place of atonement for people who aren't condemned to hell, but are not yet ready for heaven.  Think of it this way (story adapted from a Homily I once heard): If you throw a baseball through someone's window and it breaks, you are in trouble.  So you do the right thing, go up to the door and talk to the person who owns the house.  You tell him / her how deeply sorry you are that you broke their window.  The homeowner forgives you right away, but you still have to pay for the window.
God forgives us for our sins when we confess and repent, but we still have to 'pay for' those sins.
Purgatory is not a fun place, but it is a place of hope because the people there know they will some day be in heaven with God.
Great news (if you didn't already know): WE can help those people get into heaven faster!!  All we have to do is pray for them!  I've always thought that was so awesome.  So pray for your relatives who have died, but don't forget the people who have no one else to pray for them and pray hard for those people too!  MORE GREAT NEWS: the people you pray for will pray for YOU when and if you make it to Purgatory.  Amazing, right?!  So add them to your prayer list!  There are also ways we can shave time off our own stay in Purgatory, but I think that's a whole other post…
I'd like to add here that I know many of you do not believe in Purgatory.  My purpose today isn't to convince you, but I want to say that there IS Biblical evidence to support a place of atonement for sins before heaven (Maccabees and Corinthians are two of many books in the Bible that talk about this) and Jesus told us to pray for the dead.  There would be no point in doing this for anyone in heaven or hell.  Therefore, Purgatory.
(Biblical support for purgatory here, here, and here if you want to learn more.)
But I'm not trying to change your mind about purgatory if you don't believe in it.  I'm just saying,  it wouldn't hurt to pray for the dead, just in case.  You know?
So that's the end of my All Saints / All Souls Day story.
Here's what you've all been waiting for… Halloween Pictures!!!
Cupcakes' First Halloween Party: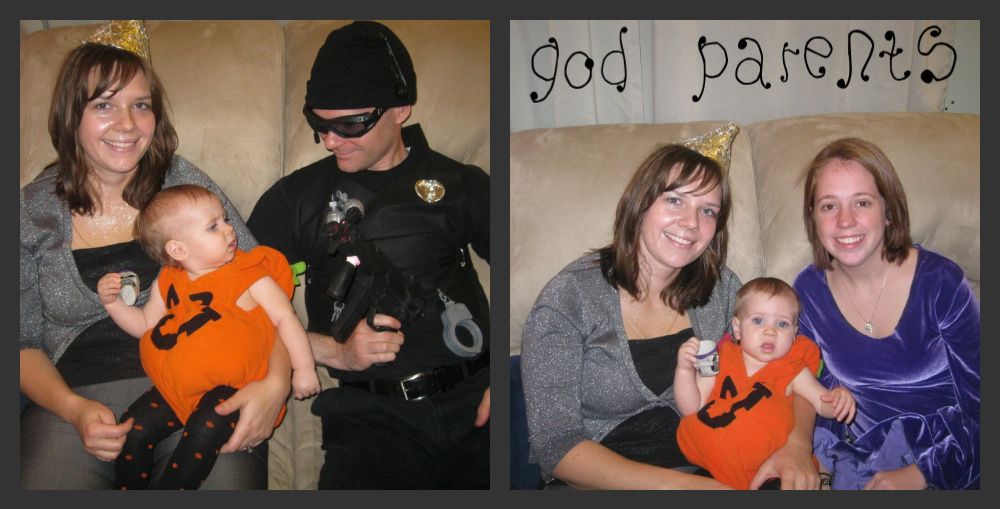 I love how she's looking at her Godfather's gun with a quizzical look and Jonathan's just smiling down at her.  Haha!
She LOVED this Monster Mash Book
It played the Song and the parts Danced – Mesmerizing!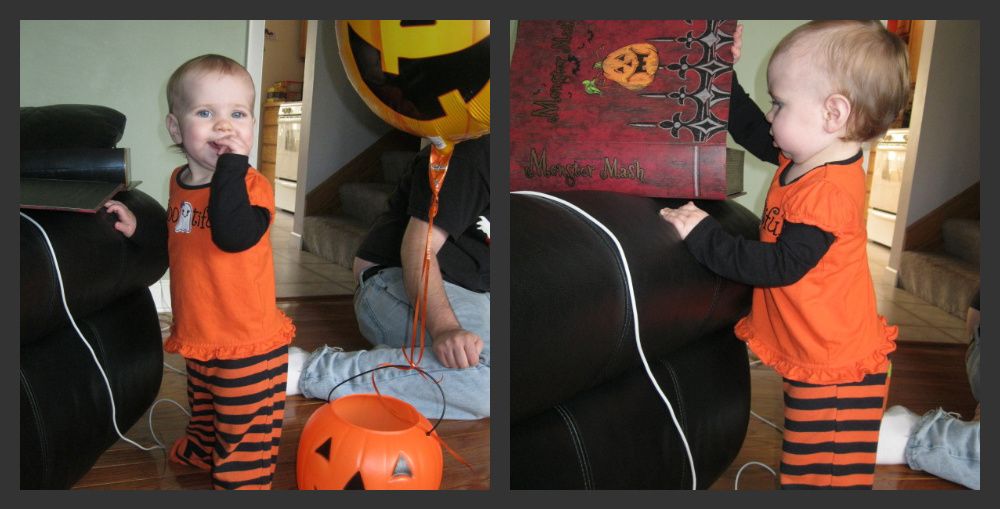 Trick-or-Treating :oD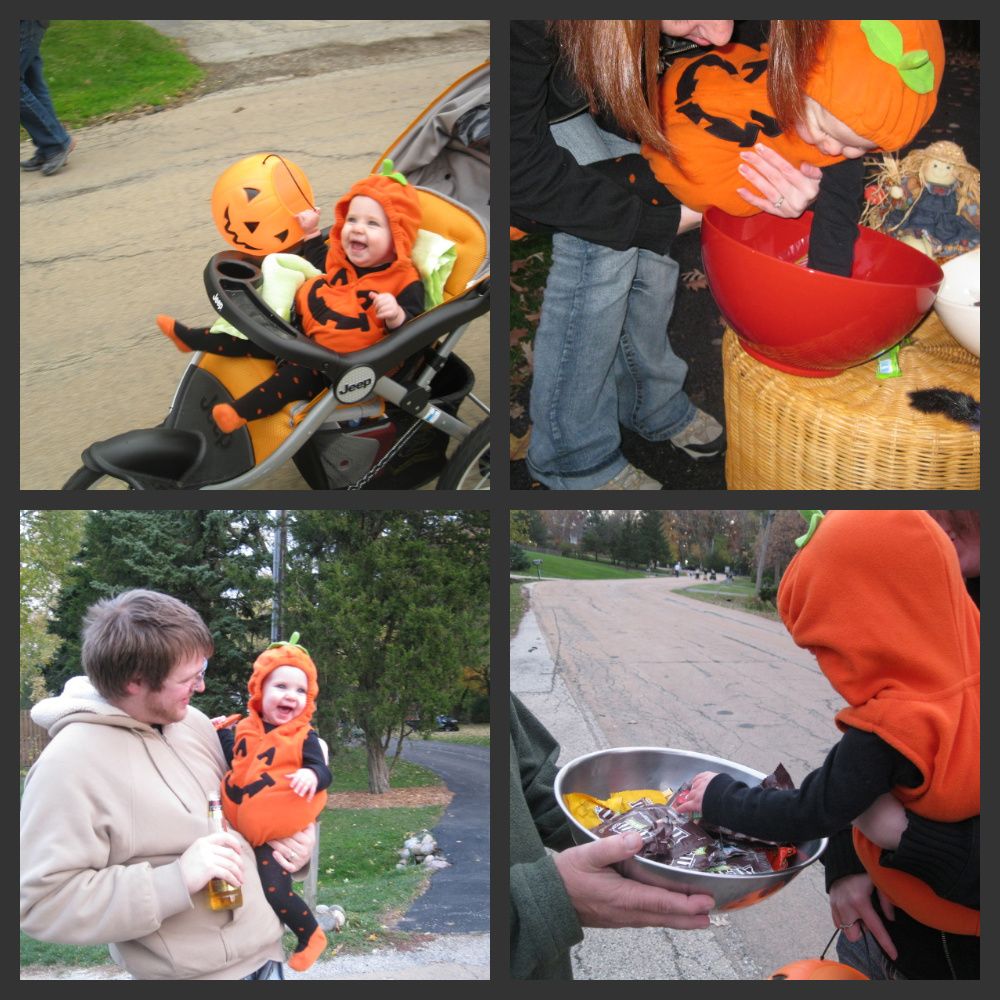 Besties Tatum and Cupcakes <3
Part of the Group that went around the Block together!
Creepy.  Look at Cupcakes' FACE!!!  LOL!  Hubby is pleased by her concern.  Haha
 So how was YOUR Halloween? 
If you posted pics, leave a comment with a link to your post!
I love seeing everyone's Little Ones in Costume!!
Vote for me? Pretty please with a CUPCAKE on top? :o)
Just 2 Clicks!


America's Restaurant Recipes eBook
This post may contain affiliate links. Clicking these links costs nothing for you, but if you choose to make a purchase through them, you will be supporting this blogger, and I thank you from the bottom of my heart. <3
Comments Make Me Happy!